Leadership & Coaching certification course for retail leaders
This is the ultimate retail training certification course created by April Sabral, founder of retailu an experienced retail operations leader, executive coach, and author of "The Positive Effect."
NOW ENROLLING FOR JULY 2021
Limited seats – don't miss your chance to be coached and trained by our founder, certified coach and experienced retail leader April Sabral in the first-ever retail coaching program.  You will need to attend a 2 hour weekly class held at 7 pm EST, Check out the Calendar link below for schedule.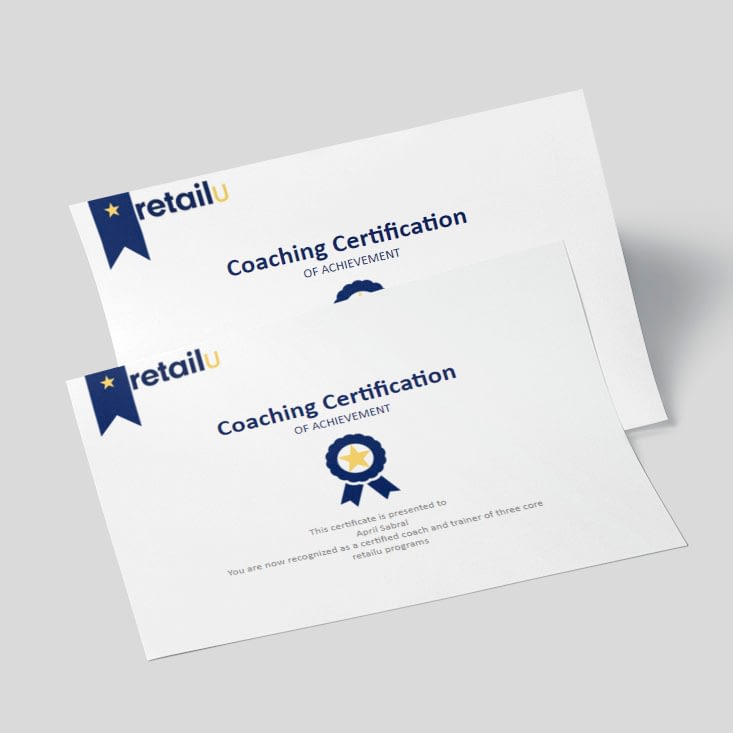 Why should you invest in leadership development?
Here are few interesting facts, 63% of millenials feel a lack of leadership development and only 5% of all businesses have leadership development at all levels. 10,000 baby boomers retire from leadership positions every day, leaving a gap in leaders. 79% of all employees quit due to a lack of recognition and development by their manager, and 52% of employees who left their company believed that their manager or organization could have done something to prevent them from leaving.
This certification aims to up-level your leadership skills while equipping you with practical tools and tactical methods you need to coach and develop future leaders. The curriculum is based on April's book "The Positive Effect" and focuses on A.C.T, how to lead with awareness.
See outline of modules below with scheduling requirments.
 Speciality Certification
Focuses on three main areas, Leadership A.C.T, leading with awareness from Aprils book The Positive Effect. Learn a four step Coaching Model, Mentorship. Facitlaition, Presentation and Training skills.
Virtual Classrooms
Group Coaching led by a retailu certified trainer. Weekly live training classes every Wednesday at 7pm EST. Use of the Marco Polo App to facilitate virtual challenges and diary entries led by April Sabral.
Trainer & Facilitation Skills
Master the art of training and facilitation, have the content you need to deliver excellent programs and develop other leaders. Presentations will be required to graduate.
The Highest Level of Retail Coaching
Practical coaching tools that will elevate your ability to coach and develop leaders. Learn how to hold quality career discussions. Practical coaching hours required to graduate.
Twelve hours of live group coaching/training sessions facilitated by April Sabral.
A copy of "The Positive Effect." PDF.
Downloadable workbooks and a list of profound coaching questions.
A 30-minute one-on-one coaching session.
Coaching eLearning course.
Mentorship eLearning course.
15 Day-Challenge led on Marco Polo App by April.
Weekly live Call with April.
Facilitation & Presentation tools and resources.
retailu course materials, powerpoints, and workbooks.
Cheat Sheets -how to find purpose, how to ACT, and how to ask discovery questions.
Assignments and practical coaching is required to pass certification.
A community social page to chat with other students.
A POD group to discuss what you're learning.
A supportive environment of retail leaders.
Module 1  – Introducing A.C.T – leading with an awareness leadership model
Module 2 – A.C.T  HOW TO ACT practical  challenge
Module 3 – Developing Leaders – Coaching, Training, and Mentorship: Part 1
Module 3 – Developing Leaders – Coaching, Training, and Mentorship: Part 2
Module 4 – Mentorship – How to set up a Mentorship program
Module 5 – Facilitation /Presentation skills – Learn how to engage and present effectively to drive change
TO VIEW PROGRAM IN MORE DETAIL CLICK HERE
.
The weekly live training call is scheduled on Wednesdays at 7 pm EST for 2 hours. It is important to note to pass the certification all classes must be attended along with all live practical coaching circles. To learn more about the schedule CLICK HERE
You will receive a program workbook in the mail once you have completed registration. This workbook includes pocket tools to remind you how to utlize targeted methods outlined in the course to super charge your leadership skills.
Who is this course for?
You are a retail leader who wants to grow and further your professional development and career.
You want stronger coaching skills and have relevant retail-specific tools to coach others.
You want to learn how to present, train and facilitate.
You are a leader that leads leaders and wants to get better at succession planning and teaching others how to do the same.
If you are searching for a certified coaching program and work in retail.
You wish you knew how to hold powerful off-sites and presentations.
If you want to know how to write clear development plans for others and yourself.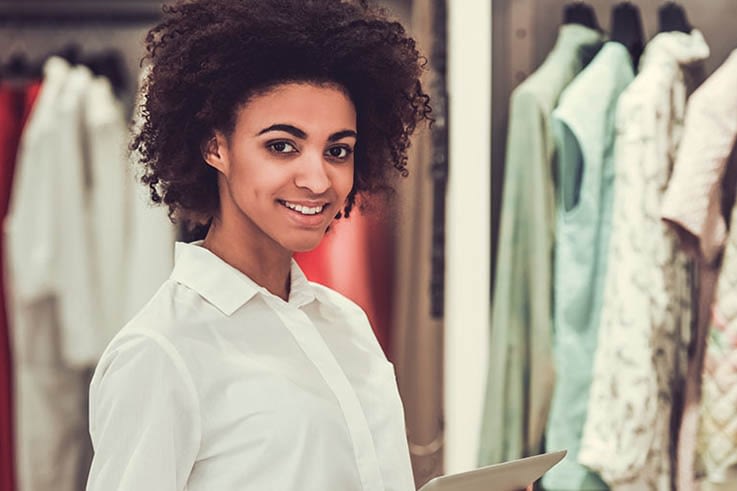 Hear from our Coaching Graduates
As a leader of people in our current retail landscape, I feel we must continue to grow ourselves with the tools and resources needed to be an effective servant leader. Our retail teams are working in an exceptionally complex and challenging retail environment and they deserve the best coaches and leaders to help them advance and win. The RetailU certification in coaching teaches and guides the participant on a journey of leadership self-discovery where they can build skills and learn leadership concepts that are grounded in the positive impact, that effective coaching and development has on our teams.  The course allows the participant to gain a better understanding of themselves as a leader, defines a refreshing coaching model, teaches the importance and responsibilities of mentoring, instructs the valuable knowledge of how to build and facilitate presentations, and helps the participant learn to listen, create and teach all while leading with acceptance, in order to build teams who can win, feel supported and challenged. The course provides retail leaders from across North America the chance to network and learn, in a safe and supportive environment. Every leader of people should embrace the opportunity to learn, grow and experience the Positive Effect. It will change the way you lead and work with your team.
Retail is going through incredible change and shifts. It takes a leader, now more than ever who knows how to A.C.T. with a Positive Effect. The RetailU Leadership Coaching program gives you just that. I have been able to up-level my coaching, presentation and leadership skills be better prepare me for my continued growth and the demands of this new work environment. Working with a small cohort and with weekly pods absolutely helped me integrate these priceless learnings. Highly recommend that you invest in yourself and your team by enrolling now.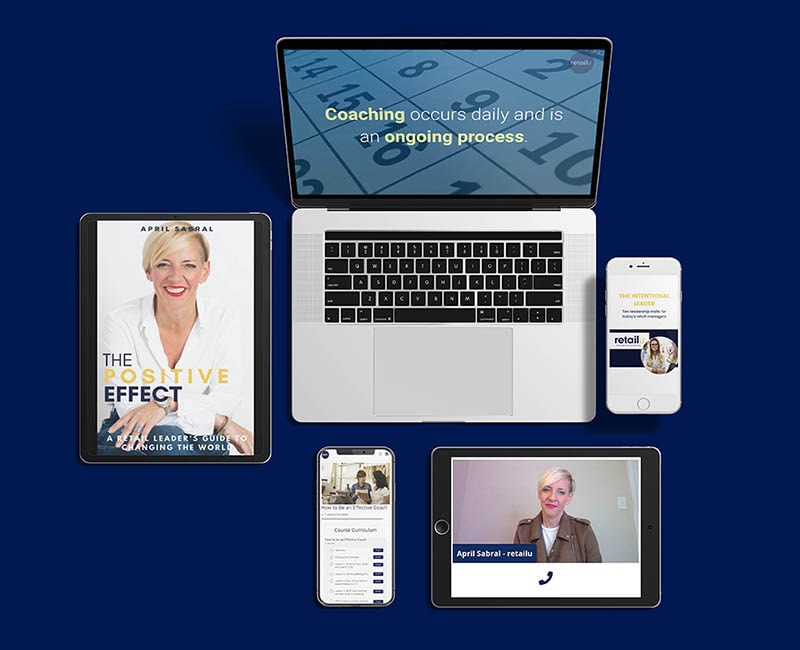 Pricing $2495
or three payments of $925
This is a 14-week cohort program. Participation is required, along with practical applications and homework that must be submitted to pass this certification. Once completed, you will hold a retailu coaching certificate.
Hear from our Coaching Graduates
 Even for the most senior leaders with a wealth of experience, the Retailu coaching certification provides insight and skills you probably were never exposed to before. It will deepen and teach you new progressive and inspirational ways of leading and learning. I greatly enjoyed learning a coaching approach based on changing the world of retail, one team at a time through the ACT – Leading with awareness concepts.
Anyone can use these in everyday, fast-paced and complex environments that are so common today and will be even more prevalent in the future.
You will also learn how to mentor and develop others. I learned facilitation and presentation skills and many other skills needed to bring my leadership to the next level. The tools and resources provided are invaluable; I highly recommend this program and am even more motivated to be the best leader I can be. I am so happy I signed up. Even better was the fact that I developed my skills with other retail leaders in the industry.